The Universe in Verse
April 16, 2022 @ 7:30 pm

-

9:30 pm
The Universe in Verse — a charitable celebration of the wonder of reality through stories of science winged with poetry.
About this event
Location: Quarry Amphitheater, UC Santa Cruz
Date: Saturday, April 16, 2022
Arrival/Check-in: 6:00 p.m. – 7:00 p.m.
Event: 7:00 p.m. – 9:30 p.m.
Join us for The Universe in Verse — an annual charitable celebration of science and nature, winged with poetry and music, created and hosted by Maria Popova (The Marginalian) in collaboration with astronomer and UC Santa Cruz Director of Astrobiology Natalie Batalha.
In the majestic Quarry Amphitheater in the redwoods, we will explore the marvel and mystery of life, from the creaturely to the cosmic, with stories from the history of science and our search for truth, illustrated with poems about entropy and evolution, trees and mushrooms, consciousness and dark matter, the birth of flowers and the death of stars, performed by a constellation of extraordinary humans: pioneering astronomers Jill Tarter and Natalie Batalha, writers Rebecca Solnit and Roxane Gay, musicians Zoë Keating and Joan As Police Woman, artists Debbie Millman and Wendy MacNaughton, poet Diane Ackerman, cosmologist and jazz saxophonist Stephon Alexander, cognitive scientist and writer Alexandra Horowitz, physicist and writer Alan Lightman, and On Being creator Krista Tippett. There will be live music and stargazing, and some thrilling surprises.
TICKETS
To make The Universe in Verse maximally open to all, tickets are available on a pay-what-you-can basis at three levels. Please contribute the maximum you are able, knowing that it would make the experience possible for someone else of humbler means, knowing too that all proceeds from the show are split halfway between The Nature Conservancy and a new scholarship at UCSC honoring the life and legacy of astronomer and search-for-life pioneer Frank Drake.
General Admission:
Contribution level 1: $ 25.00
Contribution level 2: $ 50.00
Contribution level 3: $100.00
—
Student tickets: $ 15.00
SPONSORS
We are grateful for the generous support from the UC Santa Cruz Foundation, UCSC Astrobiology Initiative, the Boom and Gunderson Family Fund, and The Humanities Institute.
We appreciate the participation of our local community, including Bookshop Santa Cruz and the Santa Cruz Amateur Astronomy Club.
Health and Safety
In accordance with Quarry Amphitheater policy, visitors (age 12+) must be prepared to show proof of COVID-19 vaccination upon arrival to enter the Quarry Amphitheatre. You may review the UCSC updated Health and Safety Policy here.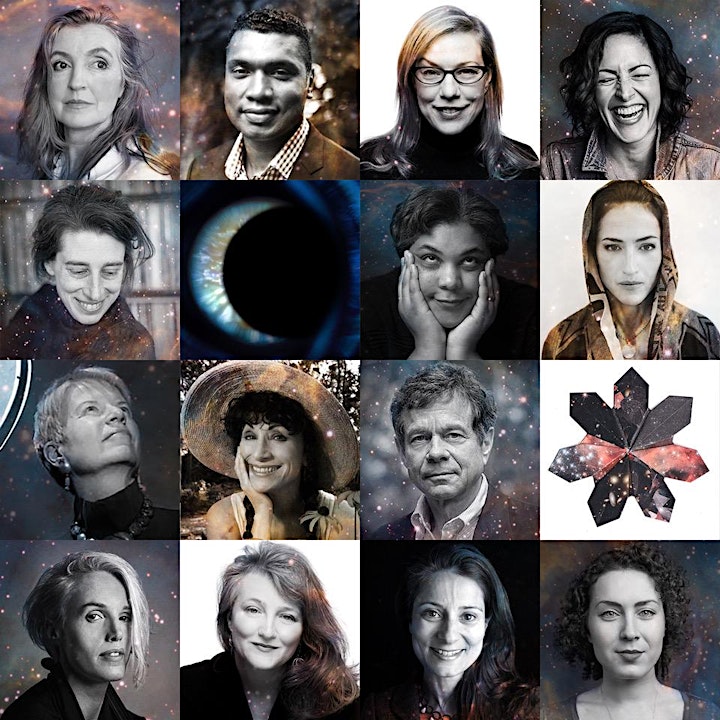 LOGISTICS
Quarry Amphitheater
This event will take place at the Quarry Amphitheater at UC Santa Cruz, under the stars and encircled by redwoods. Please dress warmly. Most seating will be on the amphitheater benches. You may want to bring a stadium seat cushion or a blanket for comfort. As we contemplate life, we celebrate all that is life-giving, including rain. This event will take place rain or shine. Come prepared for both. No refunds.
Doors open at 6:00PM, the performance begins at 7:00PM. and should finish by 9:30PM. After the event, and weather permitting, guests are invited to take in celestial sights through telescopes shared by local astronomical association members and UCSC astronomers.
Directions and Parking
Enter campus through UCSC's main entrance at the intersection of Bay and High Streets. There will be signs directing you to the "Quarry Event" or "The Universe in Verse."
Proceed northbound one-half mile on Coolidge Drive and turn left at the second stoplight onto Hagar Drive. Proceed northbound on Hagar Drive three-quarters of a mile and turn right into the East Remote Parking Lot 104. There is a $5 fee to park on campus, paid using the ParkMobile App (download here: apple, google). We highly recommend that you download the app before arriving on campus.
A 15 min walk uphill along paved and lighted pedestrian walkways will take you from East Remote Lot to the Quarry Amphitheatre. There will be signs marking the way. Limited shuttle service will be available running every twenty minutes or so.
ADA parking for this event will be located at the Bay Tree Bookstore Parking Lot 102 next to the Quarry Plaza. Each vehicle must display a current ADA placard to be able to park in this area.
For these and any further ADA accessibility accommodations please email Quarry@ucsc.edu
This and other information can also be found here.